by Slobodan Lazarevic
My name is Slobodan Lazarevic, for most of local fish keepers and close friends of mine better known as Laza. I'm from Belgrade, the capital of Serbia. I'm a member of several fish keeping web portals word-wide under the nickname Octopus or OctopusBG.
I'm 43 and I have been in aquaristic very long…from my first footsteps. My parents are vets and thanks to them I faced with my first tank in my early childhood. It happened love on the first sight which influence on my life. Every year the number of tanks increased. When I was a student I had over 20 tanks. At that moment I was successfully breeding a lot of freshwater fishes: Angelfish, Discus, neon tetras etc. In 1996 I started to deal with fish and corals production more seriously. In that moment I had over 100 tanks. Today I'm not sure how many tanks I have.
Today, the fish keeping, corals and aquatic plants are my business, my hobby and still my obsession. aquatics is my love and also my way of living. I am a breeder of freshwater fishes, aquatic plants, corals. No matter how busy I am, aquascaping is something I always find time for. Although aquatics is my job, it is still my passion.
Most of my tanks are in a room my wife has named Laza's Green House. There is my 2700l reef system and 2000 l system for coral production as well as my new aquascaping setups. The Green Houses a place for my hobby and doesn't have connection with my business. Tanks for fish production are at a different location.
I became interested in aquascaping a long time ago, probably even before I knew the term "Aquascaping". As a student, in addition to fish breeding, I was introduced to aquascaping from some Dutch tanks I had seen, and some early works of Mr. Takashi Amano that made a very strong impression on me. In particular, his nature style left a big impression on me. Therefore, I decided to make and develop my own type of aquacsaping style inspired by Amano's layouts. From the beginning until now my intention is still to replicate some images of a nature I have in my minds eye as realistic as possible in all of my aquascapes.  Some of my colleagues have termed my style of aquascaping as  "Hyper-realism". Regardless of what name is given to it, the whole process requires much patience, skill, and attention to details.
Today, the most of my interest and addiction is focused on Reef keeping and corals but still, I did not give up  Aquascaping and accordingly, I'm trying to create at least 1-2 new layouts every month.  Aquascaping is the best stress reliever for me:.  that kind of creative work is a very successful way to relax and to divert my attention from regular daily tasks. Many people know my name from the nano tanks I have done but I've made my setups in many different tank sizes from few milimeters to 1000 l.
Nano aquascaping is a thing that I've been doing for the last few years.  Nanoscaping does not require a lot of man hours, or a large amount of materials used for hardscaping a tank. Personally, I have always admired various amazing miniature things made by craftsmen as well as manufacturers. I have always been fascinated by those people capable to make a model ship in the bottle. Things like that have always had my admiration. The same is with nano tanks as they require a lot of focus and concentration to create, but at the same time serve as excellent stress relievers. With every effort I try my best to make an aquascape as realistic to a landscape I have seen as possible. It is a great challenge for most of aquascapers to make any kind of aquascape in such a small tank never mind one with such detail.
It is very difficult to keep such small tanks in good shape over a long period of time.  Slow growth of plants is the thing of extremely high importance in such small tank. It is very important to choose only those plants that are slow growing in order to enable aquarium setup to be in needed shape as long as possible. Therefore, all fast growing plants should be avoided in nano scapes. Under the low light, growth of all mosses will be slow enough but still they will look healthy. Regular daily water changes are also very important and for that purpose, I'm using  water from my biggest planted tank, as the all water parameters are stable and well balanced. Low light, stable water parameters with appropriate quantities of macro elements and TE, regular water changes are most important things if we want to have good looking and healthy plants in nano tank which is at the same time free of algae.
These are some of my nano setups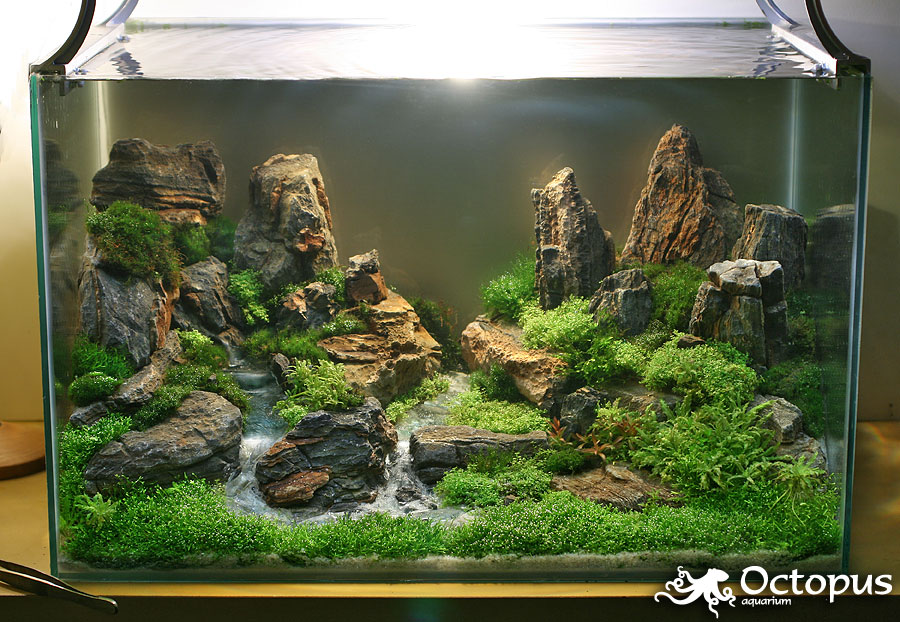 Promised land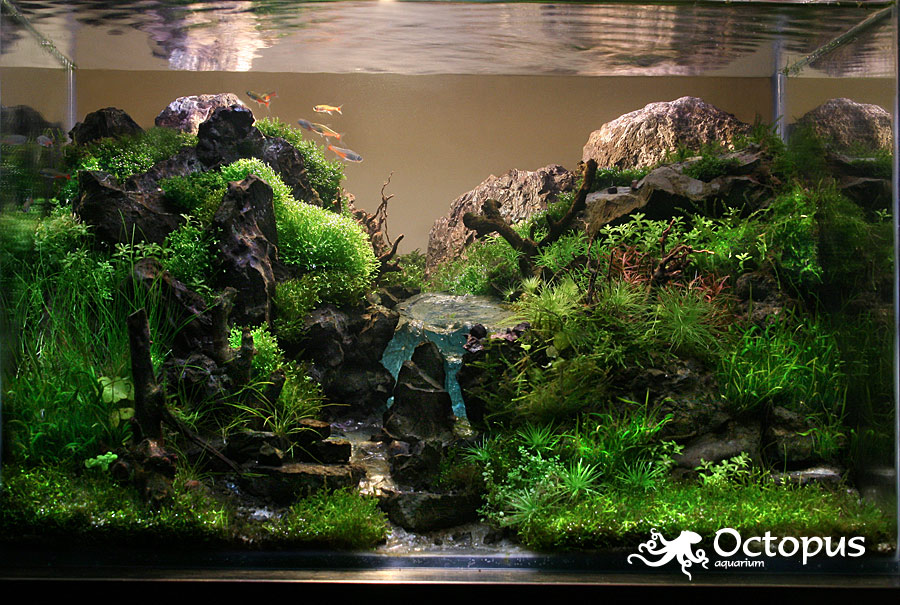 Where angels play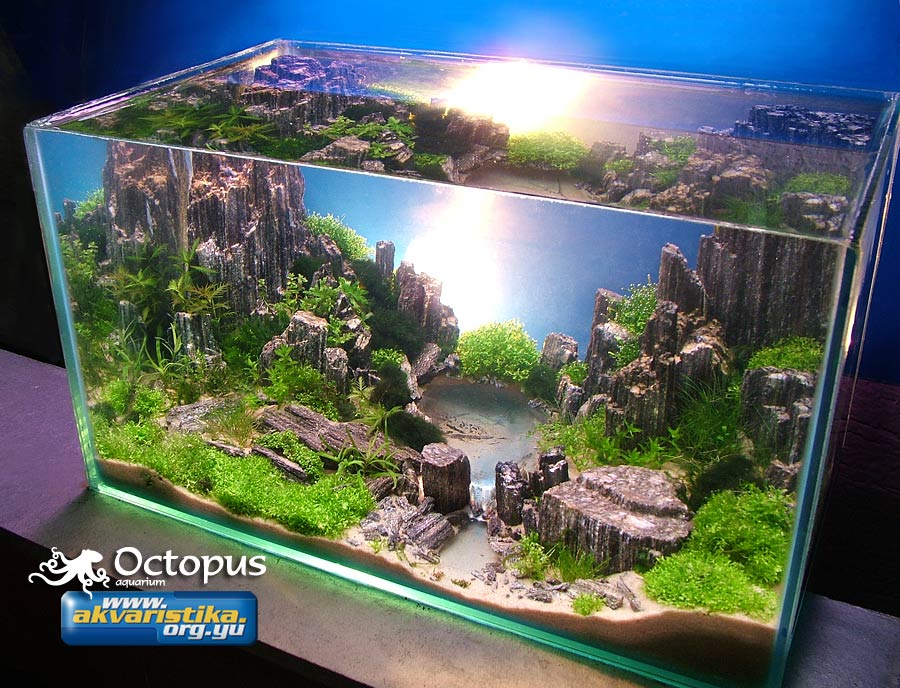 Crystal Lake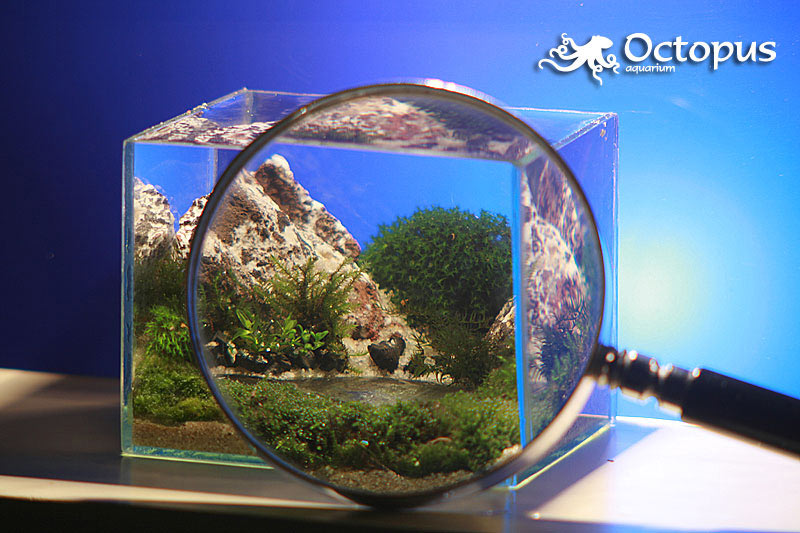 Mountain Lake
However, besides all of my nano tanks, there are always several bigger tanks arranged in the same manner as nano ones. The biggest one is approx 300 gal. may be you remember some of these tanks: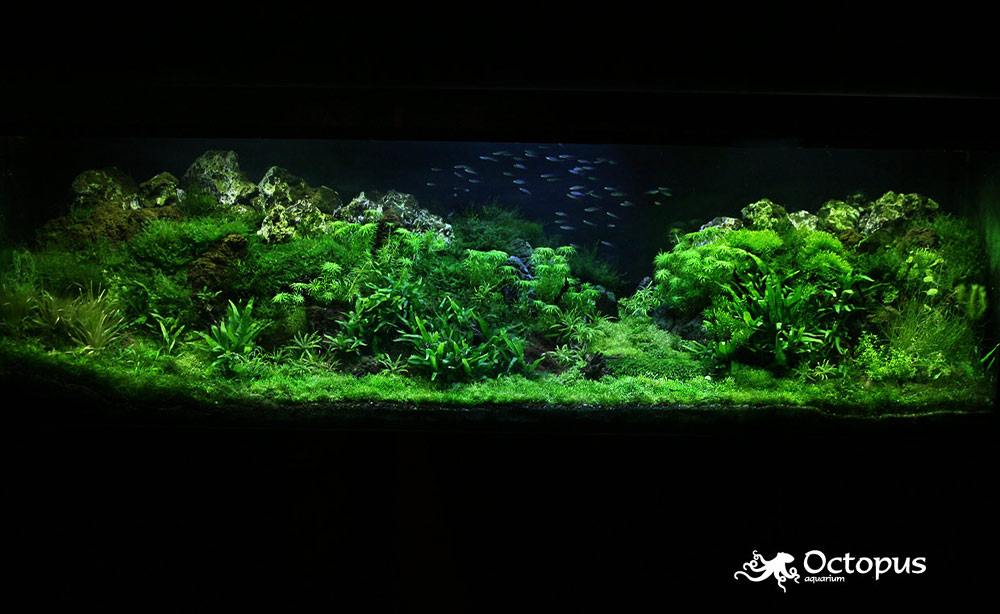 The complete GALLERY
Many people ask me where I find inspiration for my works.. Most of my aquascapes are inspired by Nature and, therefore I am just trying to make them to look as natural as possible. My aquascapes are nothing but the pictures of various beautiful places I've seen  all around my country.  My first aquascaping plan was to make something small but still capable of reflecting the beautiful parts of landscapes that has inspired me so much. I prefer wild landscapes of nature and accordingly have tried to emulate that in all my setups so far. This is the reason why I do not do trimming of the aquatic plants too often. All my efforts in aquascaping are focused on attempts to make aquarium layout that looks natural and only to reflect nature realistically in all its beauty.  I spend much of my spare time walking the countryside looking for inspiration and searching for natural decorative materials that could be used as a hardscape in my tanks.
Prior to design of any of aquascape, I have a clear vision what I intend to make and what it should look like. I never make any kind of drawings of aquascape. As long as I have a picture in my mind I have a clear idea of what to do at each step with very little revision.  Only a few times I've struggled to re-create the image borne in my memory, but with each experience it has become much easier.
The Hardscape is  the most important aspects in all the  setups I've made so far. It is what I have put the most effort, thought, and care into. Everything from searching out just the right color, shape, and texture to exactly how it is placed.  It is an essential key to the entire design and the sense of realism. In many respects it is more important than the plants.
I have learned progressively from every aquascape I have done and the mistakes made along the way. With each scape it has gotten easier and mistakes are fewer. As it gets easier I find myself looking for more challenging aquascapes. Without the challenge of difficulty there is no excitement or learning!  I am striving to keep the aquascapes new, fresh, and original.
Every tank has its ups and downs. Therefore, the success depends on our knowledge and experience on how to handle any possible problems that could appear. As I am Biologist I have the advantage of some knowledge that gives me a greater opportunity to understand possible problems and how to solve them appropriately in each of the tanks I have. Despite some 30 years I've spent in this hobby, I'm still trying to learn and educate myself as much as possible.  All of the ferts and soil that I use in my tanks I have made myself.
For me, aquascaping is the ultimate form of relaxation and escape from the mundane and tedious aspects of the real world to one of pure imagination. To me water represents peace and tranquility and when I finish an aquascape I feel a wave of contentment wash over me.
Visit  Slobodan's web site, the pride of Serbia!  http://www.akvaristikaonline.com